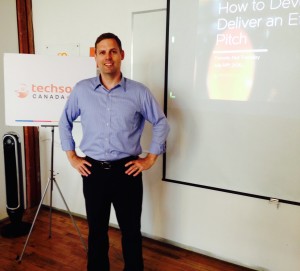 Recently I gave a short seminar at TechSoup, located in the CSI (Centre for Social Innovation) building here in Toronto. TechSoup had asked me to speak about developing and delivering an effective pitch, with a slide deck. Their target audience is non-profits who want or need to build their technical skills to help improve efficiencies in their organization. The seminar had a small live audience and it was live-streamed as well.
Just as I teach my clients, I broke my talk into three main chunks: pitch structure, slide guide and public speaking & body language tips. I wrote a brief article on my LinkedIn profile going over the key takeaways, so please click this link to see the article, and then like and share (either here or there) if you found it useful.  Thank you.  🙂
https://www.linkedin.com/pulse/develop-deliver-effective-pitch-ric-phillips
And if you desire more info on pitching and presentations, please see my brand new ebook called "3V Podium Power:  Next Level Public Speaking, Presenting, Pitching & PowerPoint Repair!" located on this site here in the 'store'.
UPDATE:  TechSoup did a great recap of my seminar, and have also included the slide deck I used in case you want to see them (but the 2 videos I used are not included, fyi).  Please click here to see their summary and my slides.  Please share this info here, there, or anywhere.  🙂
https://www.techsoupcanada.ca/en/community/blog/effective-pitches-nonprofits
Thank you so much!