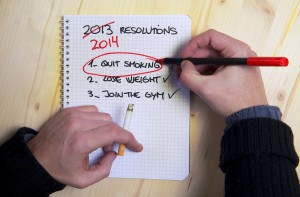 As the New Year approaches it is quite normal for us all to think introspectively and then talk about what our exciting resolutions will be, to ensure we start this year off on the right foot (not like last year). We hear the reporters interviewing folks on the street, and we read the bloggers giving their best tips to set and achieve new goals.

 

We read motivating books and then make pacts with friends and family members to enlist their help in keeping us on the winning path to 2014 success.

 

Sounds like a good thing.
We are often nervous about it all, thinking of the work that needs to be done or the hard sacrifices that need to be made, yet at the same time we are excited at the rosy vision of a new person – the person you really want to be.

 

We imagine how this year will be so different from, well, yesterday.

 

We create a psychological distance with our brain to think that the two years, the 'old' one and the 'new' one, are going to be completely different.

 

Wow – what an idyllic scene.
Back in 2008 I wrote a blog about why 90% of New Years resolutions fail.

 

That blog got the attention of an intern at CBC News and I was called in to discuss on New Years morning, hangover and all, my thoughts on how to really set goals and achieve newness.

 

As an upstart entrepreneur eagerly attempting to get my name out there as The Communication Coach in Toronto I accepted the live interview request, and all in all it went smoothly.

 

I gave a no frills formula on B.E.S.T. goals, with the advice to make your goals Believable, Enthusiastic, Specific and Time-based.

 

What I remember most about that interview was the last question the reporter asked me.

 

Because it was live and unscripted I had no idea she was going to end our interview with "Do you have a resolution?"

  

Before I could even think of anything to say I blurted out the truth.

 

The truth of how I really felt about all this goal setting and last minute resolution stuff.

 

I answered that I don't make resolutions!

 

WOW – the coach brought on TV to talk about how to set and keep resolutions admits he doesn't even believe in them!

 

That's right.

 

The reporter laughed at my candidness, and I think she was relieved in a way too, probably because she shared my views.

 

I continued to say that it's about planning all year round, small goals to achieve bigger goals, and then went for the throat on the whole interview by confidently stating that we should not even be using the term 'New Year Resolutions' because one can simply predict based on current lifestyle and habits what is going to happen in the new year.

 

We should all talk about New Years Expectations!

 
So there you have it folks.

 

Instead of talking about our fantasy life that is instantly going to happen at the stroke of midnight December 31stas we focus our energy on a handful of life-altering decisions, why don't we instead take stock of our current reality?

 

Start with the idea that if you didn't make any changes – what would happen, or not happen, or change, or not change, in 2014?

 

And are you okay with that?

 

Maybe you are already on the path to success.

 

Maybe you have already started making decisions in your head that are firm.

 

Maybe you are sick and tired of something, or of not having something, and are well on your way to making changes with a determined mind.

 

You may not need a special day to find resolve.

 

You are doing it.

 

Maybe the first habit we should break is the habit of making New Year resolutions!

 
Finally, as I wrap up this admission of why I don't make January first resolutions, I leave you with this.

 

Today when my wife told me all the things she is going to try to change, a quiver of emotional pain in her voice at the thought of forcing herself to do things that are 'good for her' to do, I wondered if she realized how great she already is, and how much she has 'improved' since we first met.

 

I then reflected on my current lifestyle, including the work I am doing with 3V and with YEDI, what I eat for food, how I treat my family and friends, and how often I go to do BJJ (Brazilian Jiu Jitsu), and I honestly thought that I'm doing pretty good too.

 

I do not feel guilty about having a holiday break to relax, and I am energized to get back to it all, and to hit the ground running.

 

I am not making major changes tomorrow.

 

I am already in the process.

🙂
Best of luck to you and yours in 2014!