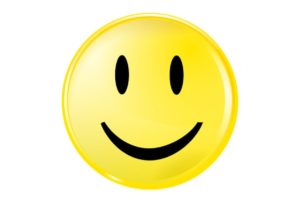 Recently I was contacted by a writer for the business magazine "The Virago."  She was writing an article about women's business communication and how so many women fear appearing "too aggressive" in their communication. Many women she talked to apparently felt like they had to add a bunch of smiley faces to their emails in order to avoid the aggressive stereotype and be listened to.
She wanted to talk to me about confident communication for women that will be listened to, and getting over the fear of being "too angry."  Here are her questions, my original answers, and her final article posted online that also includes other expert opinions. Enjoy!
Q1: In your experience/opinion do both men and women use the smiley face emoji in business emails? Do both genders use them with the same frequency?
A: In my experience not many people use the smiley face emoji in business emails, but they are gaining acceptance. The fact that we have adopted the Japanese term 'emoji' and people understand what it means is a testament to that. They were frowned upon (no pun intended) up until very recently. I used to teach people not to use emoticons in business writing right up until just a few years ago. These days they are acceptable if they are familiar (like a smiley face) and add insight to the sentences. I would say women use them a little more frequently than men, but I personally use them often and find them a valuable communication tool.
Q2: Is use of the smiley face emoji effective in emails or does it damage the reputation of the user?
A: It's often hard for people to understand the exact intended meaning of just written or typed words, and that is why we have more miscommunication with writing compared to phone calls or face-to-face discussions. An emoji can be very useful to add clarity to a comment, so the reader understands that something was a joke or a playful sentence and not a sarcastic one or aggressive order. Here's an illustration:
"Get back to work!"
"Get back to work!" 🙂
The first phrase may have been sent as a playful jab or joke, but how could we know for sure? It may accidentally hurt feelings or cause tension. In the second example, it's clear we are teasing.
Regarding our reputation – it can be damaged if people in business think we are not serious of course. We don't want to overuse the emoji or use obscure ones, and we do want to consider the familiarity of the reader as well. People that know us can 'hear' our voice when they read our emails, and in this case the emoji adds tone and should not take away from our reputation. Like everything in life, moderation is the key.
Another example: recently I wanted to give my receptionist a little "trouble" for leaving a small meeting room messy that I needed to use with a client. I walked into the room and saw the mess, took a photo of it, and got down to coaching. I emailed the photo to my receptionist and typed some statement to do with the 'surprise' and instructions to please check more thoroughly next time, but ended it with a smiley face emoji. J She wrote back an apology and a joke of some kind with a smiley face too. When I saw her in person next time there was zero tension. The smiley faces allowed each of us to know that the point was taken but there were no bruised feelings over it. Message received, emotions saved!
Q3: Does the gender of the user have any bearing on how an email's reader reacts to smiley emoji use (or not using smileys)?
A: An emoji is a softener – it softens or lightens the tone of the phrase or sentence. Some people may associate that as more feminine or, like me, they may associate that with empathy and taking steps to have their message understood clearly, and without misunderstanding.

Q4: What is a clear and confident way for a woman to give those she supervises instructions or discuss a difficult subject with them over email without using the smiley face emoji? Are there particular words or phrases that are effective?
A: In general we should avoid discussing difficult subjects over email! That's the best piece of advice I can give. It's too easy to be misunderstood when emotions are high. It's best to use email to arrange a face-to-face or phone meeting to discuss the situation. Other than that, it's important for people to take emotions out of business reports, feedback or evaluations. Stick to the facts and avoid judgmental words like: always, never, good, bad, smart, lazy etc. As a manager you should focus your communications on dealing with behaviour, not the personality. Don't "accidentally on purpose" make it personal when it doesn't have to be.
Ric Phillips, Communication Coach
@CommCoach (Twitter)
Final Virago Article:  http://thevirago.ca/2017/02/24/emoticon-sending-wrong-message/