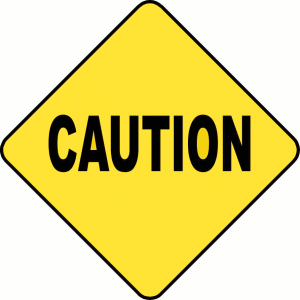 We are hard-wired to default to the negative, whenever not enough positive information is available about a person or situation. In other words, we do not automatically trust in the good of people or the world, unless we have sufficient reason, past experience or 'proof' to do so. We cautiously default to the negative to prepare for anything bad, just in case.
A few weeks ago I received an aggressive email from some lady far away, demanding that I remove a blog post that contained her original article. It was from at least two years ago, and it was for all intents and purposes, forgotten, and buried among my other posts. So why was she upset?
When I had copied the article to my blog, I also included the hyperlink to the original place where I had discovered the excellent article. I always cite the author and original website properly, because I know exactly what it feels like to see your articles posted on someone else's blog or website, and not have proper credit given. I get it. To us authors, coaches and trainers, we spend a lot of time building 'street cred' on the internet to be recognized hopefully as a thought leader. It is our intention that our pieces of writing get shared and circulated, but we hope that sharing will lead people back to our site, and to our product and service line.
In this case the hyperlink now led to nowhere, as the hosting site where I originally found the article had shifted, been shut down or had been sold. The point is, the hyperlink I had placed in good faith years ago now did not lead to proper accreditation and this lady was upset that her work looked too much like it was 'my' work. I can understand her wanting to rectify this situation.
She came at me guns blazing, defending her work, threatening serious action if the article that I 'stole' was not taken down, or a new link to her new site was not put in place. I was a bad guy I guess in her eyes, and she had me in her cross-hairs.
She didn't know me, had no proof of my innocence, and therefore defaulted to the negative. I must be a guy trying to pass off her hard work as my own, and leverage her article to gain my own new clients. I understand this from a psychological and evolutionary point of view. It's a natural instinct to protect yourself and your stuff. What I want to preach today is to learn to recognize that evolutionary auto-warning system, shut it off, and think before you respond.
It would have been much better in my opinion if she would have approached me (or any other author in a similar situation) as a potential collaborator, not a competitor. After all we are obviously in the same market space.  Here's my suggested email:
Dear Ric,
I noticed you have published my article titled "ABC Great Article" in your blog post (dated month day year). First of all thank you for sharing my work. It is much appreciated. I noticed that you included a link to the site where you found the article but you probably had no way of knowing that the site has changed owners/function and so the link is unfortunately dead now. I was hoping you could simply exchange Link A with this new Link B in your blog post, so that readers of your blog may follow the article back to me with no problem. Alternatively you may choose to remove the post completely, but I hope you choose to keep it up on your blog.
Thank you so much for your time and once again thank you for sharing my article with your readers. Perhaps I could post one of your articles on my blog for our readers, since we share a common target market?
Please do not hesitate to contact me with any questions.
Sincerely,
Mrs. J. Smith
Had I received an email similar to the above, I would not only have changed the link immediately, but would have personally responded to the email and began to find out which of my articles would best suit her blog. It could have been the beginning of years of collaboration between colleagues.
Instead, what I did was delete the article immediately and not respond at all to the email. I won't even cite it here in this blog post. It is dead to me.  Which response do you think is better for her business?
I wish her the best and hold no grudge at all.  I just thought it would make an interesting topic for a blog post.  Please feel free to share this post, and I trust you will properly cite it.  😉