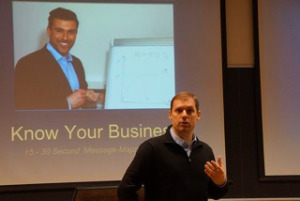 Source: 3 Questions with Communication Expert Ric Phillips | The Jenn Report 
Be clear, confident and successful! Don't let a lack of high-level communication skills hold you back.
Advises Ric Phillips, a Communication Coach since 2006. His clients include professionals and politicians.
A few years ago, I met Ric Phillips at a local networking group and found him friendly and easy to talk to.
Recently, I asked him 3 Business Communication 101 questions. Here's what he had to say:
1) In this digital age, what are the essential business communication skills?
Ric Phillips:  There are several essential communication skills needed for a successful business relationship, but specifically considering the digital age, I would say:
1 – The ability to build rapport in person and over the internet and phone. Business requires not just human interaction, but humans to like each other. We are not motivated to work with someone or buy something from someone whom we dislike.
2 – Sense the tone. Especially considering texts, emails and VOIP calls, we need to be able to understand not only what is truly being said and meant, but how to ensure our communications going out have a minimal chance of being misinterpreted as snobby, sarcastic or demanding, to name a few potential threats.
3 – Public speaking and presenting… (Please continue reading by clicking the link above (Source link below photo) or https://thejennreport.wordpress.com/2015/10/19/3-questions-with-communication-expert-ric-phillips/ to get to Jenn's full blog post and finish the article.  Feel free to comment and share!  🙂