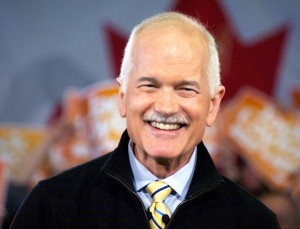 As we all know by now in Canada and many parts of the world, our fearless leader of the Opposition, Jack Layton, has succumbed to a second battle with cancer. He was only 61.
Jack was a great communicator because he was able to handle himself in difficult discussions (as the 2011 Leadership Debate certainly highlighted) as well as add a soft touch, a human connection to those he spoke with. He could connect with anyone and make them feel important whether it was face-to-face, over the phone or through email. Those close to him commented often on this ability to shift from professional lecturer/debater to small-town folksy chit-chatter. As a matter of fun-fact, before the 2011 election he was voted the guy Canadians would most want to have a beer with, compared to the other 3 federal leaders he was running against, in an online survey. More noteworthy was his ability to be memorable to those he met, for example the security guards at the Ottawa parliament buildings. That was a key concept of effective communication that Jack understood and employed – the ability to be remembered. That is one of the ingredients to having what people call 'charm' and 'charisma'.
Good bye Jack.  You will be missed.
For more information, please visit his page at http://en.wikipedia.org/wiki/Jack_Layton